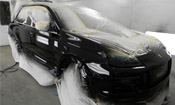 Village Auto Body in Bergen County, NJ can make your vehicle look like new with a quality car paint job. Village Auto Body has auto painting specialists that will give your vehicle the sparkle and shine you expect with our car paint matching system. You can be assure that we will match the perfect color to your car.
Paint work at Village Auto Body is performed with the finest quality products in the auto industry. Your vehicle will be painted with our highly trained technician.
Our quality auto painting materials will assure that the exterior of your vehicle will stay fresh and looking new for the life of your car.
For over 25 years, Village Auto Body has been committed to painting vehicles in a timely fashion.
We perform auto body painting on all makes and models: Audi, BMW, Mercedes, Chrysler, Chevrolet, Honda, Ford, Lincoln, Mercury and many more... Call us now for a free car painting estimate: 201.251.9195